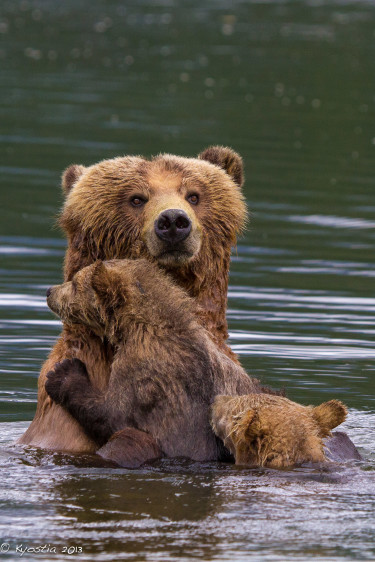 Just when you think things couldn't get any stranger, the plot has thickened!  Last week the tabloids reported that Lenore had all but abandoned her beautiful babes, Sitka and Cedar, leaving them to their own devices while she pursued late night clandestine rendez-vous' with a transient man of mystery concurrently said to be wooing our beloved Kinky.  Photographic evidence has positively identified the perpetrator as none other than 2012 Stud of the Year, Mr. Abraham!  OMG!  Lest we forget that Abraham, presumed to be the father of Bella's current C-O-Y is the same bruin that tempted fate this time last year with a brazen daytime attack on Kinky's kin.  Apparently time heals wounds.  Now they're mating!  Not only that, but it would seem that Lenore, overcome by jealousy, wants a piece of the action and until just yesterday has been playing the seductive temptress. (sigh)
As always, the ever-patient Bella (seen above) is only trying to find a respectable estuary in which to rear her little ones.  Despite the fact that her paws are more than full with the endless playfulness and tenacious appetites of 1st year cubs, she seems to have pseudo-adopted Lenores estranged daughters?  These days the five of them are regularly observed foraging within just metres of each other with nary a reaction from either party.  How long will this alliance last and could this prove integral to the survival of Sitka and Cedar?  To date it seems effective in deterring would-be raids by Kinky's former rat pack, Hewy, Dewey and Louie who continue to struggle with their own newfound autonomy.
This ubiquitous dysfunction is beginning to shape up like an episode of Oprah Winfrey!
Grizzly bears and black bears, deer and wolves, eagles and an amazing array of seabirds, there's always something to see on a Tide Rip Grizzly Tour!!!
We depart at 0700am daily from historic Telegraph Cove bound for the spectacular Knight Inlet by covered water taxi, complete with onboard washroom. Cost starts at $319 per adult for this all day excursion and includes a light breakfast, healthy lunch and knowledgeable Guides.
Please call toll free 1.888.643.9319 or local 250.928.3090 to book your grizzly bear tour.