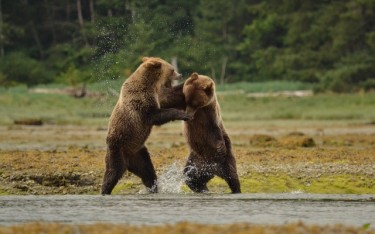 Massive groups of salmon have now entered the estuary, and it is so full of excitement that I now declare the fishing competition between our two favourite sisters: Cedar and Sitka – officially opened!
 At the very beginning, one could see strong determination on both sides. The two bears, focused on the fish, were running, splashing, and jumping like crazy. But looking closely, one could easily notice that Cedar was slightly more aggressive in her fishing duties. Meanwhile, Sitka would only glance at here sister from time to time, a little embarrassed at not being able to run as fast as her. After a few tense moments, Cedar was running after a salmon who would already feel his death coming, the fish was dangerously and stupidly swimming towards an even shallower pool than where he was before, and what should happen, happened! Watched by numerous seagulls dreaming about left-overs, Cedar caught the fish! And she was soon followed by Sitka who obviously was expecting her sister to share her catch. What a shock when Cedar roared at her sibling, making her understand that there was no way she would get a piece of that fish. Sitka upset and hungry, decided to retreat some distance to rethink her fishing skills. She went for a very short nap but quickly came around again and the competition continued. Cedar, who was not full at all after she had finished her breakfast, was back in the arena as well.
But when eventually Cedar caught another fish before the eyes of her desperate sister, it was too much for Sitka to handle. Jealousy took control of her mind, and she expressed her frustration by provoking Cedar, instigating a few impressive swatting blows. When Cedar still would not give up even a piece of fish, Sitka took to moving slowly about to tease her, to show he that being sisterly meant that she could at least have shared the fish.
Grizzly bears and black bears, deer and wolves, eagles and an amazing array of seabirds, there's always something to see on a Tide Rip Grizzly Tour!!!
We depart at 0700am daily from historic Telegraph Cove bound for the spectacular Knight Inlet by covered water taxi, complete with onboard washroom. Cost starts at $319 per adult for this all day excursion and includes a light breakfast, healthy lunch and knowledgeable Guides.
Please call toll free 1.888.643.9319 or local 250.928.3090 to book your grizzly bear tour.