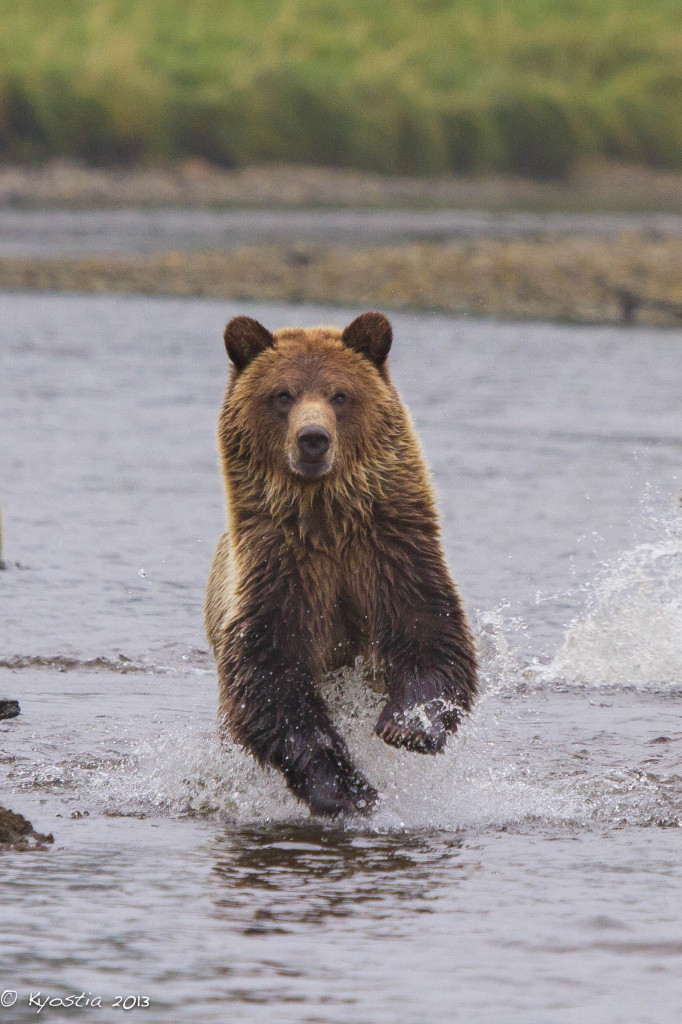 It's been nearly two years since Defensive Tackle Cedar (see photo) was drafted from the farm team onto the starting line and frankly, I just don't see her 'A' game coming together.  She's got a strong stride to the net and her stick handling is on fire but at the last minute somehow she manages to fumble the ball and to date spectators have not yet seen her make a hole-in-one.  I wouldn't be surprised to see her off the field and riding the bench by next game.
Meanwhile, it would seem as though Right Wing Sitka is getting the job done.  Under the careful mentoring of Team Captain Lenore, she's been nailing slam dunks and on occasion three-pointers from outside the line.
But that's not the only action on the roster.  In recent weeks other teams have entered the ring, resulting in Technical Knock Outs after some surprising left hooks.
What the Offense lack in game plan they make up for in numbers.  According to the latest figures provided by the league, there are an estimated 5200 salmon on the court which is greater than the brood year during the same period two years ago.
This is welcome news for the defence!
Grizzly bears and black bears, deer and wolves, eagles and an amazing array of seabirds, there's always something to see on a Tide Rip Grizzly Tour!!!
We depart at 0700am daily from historic Telegraph Cove bound for the spectacular Knight Inlet by covered water taxi, complete with onboard washroom. Cost starts at $319 per adult for this all day excursion and includes a light breakfast, healthy lunch and knowledgeable Guides.
Please call toll free 1.888.643.9319 or local 250.928.3090 to book your grizzly bear tour.
WE KNOW WHERE THE BEARS ARE.  WE CAN GET YOU THERE!