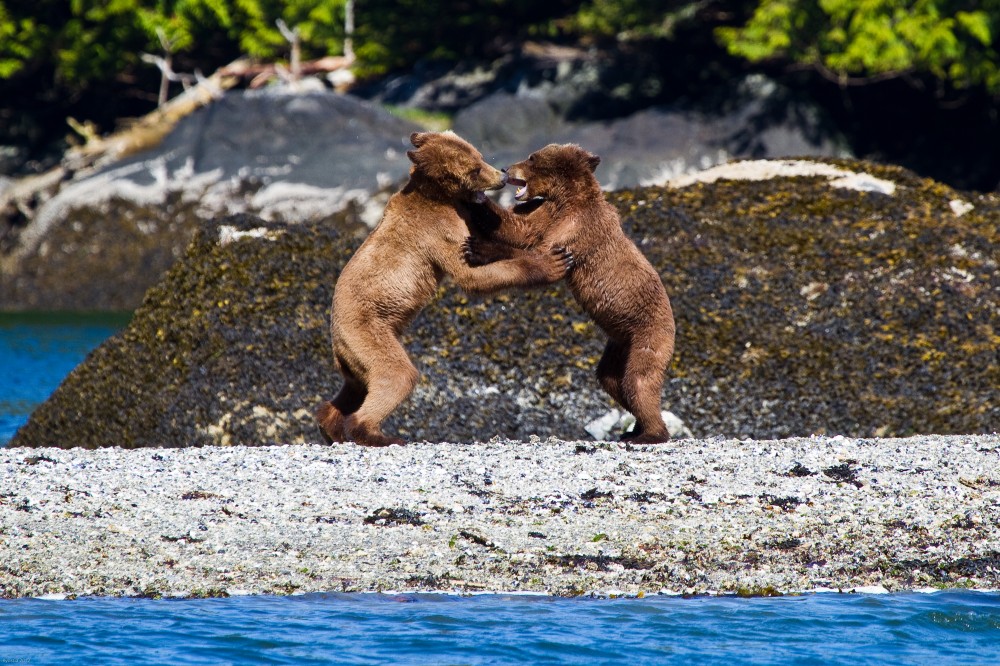 Perhaps still reeling from the after-effects of winter's confinement, Bella's once cute-wittle-baby-boo-boos-turned-terrible-twos were up to their old tricks once again despite having just bearly stepped paw from their winter den.  Isn't this the predicament we left them in last autumn?!  Although their shadow boxing antics provided hours of entertainment and incredible photo opps for our guests, Bella on the other hand seized the moment and spectated from atop a rocky headland, photosynthesizing in the early summer sun and no doubt recharging, counting down the precious minutes until she can once and for all bid these raucous teenagers goodbye.  For it tis spring after all, a season dedicated to the birds and the bees.  And now, having paid her Motherly dues for over two years, Bella is definitely suffering the hormonal effects of spring fever whereby she hopes to meet the boar of her dreams and go on to rear another generation of beautiful cubs for Tide Rippers to ogle in amazement over.
 Grizzly bears and black bears, deer and wolves, eagles and an amazing array of seabirds, there's always something to see on a Tide Rip Grizzly Tour!!!
 We depart at 0700am daily from historic Telegraph Cove bound for the spectacular Knight Inlet by covered water taxi, complete with onboard washroom. Cost is $300 per person (including tax) for this all day excursion and includes a light breakfast, healthy lunch and knowledgeable Guides.
 Please call toll free 1.888.643.9319 or local 250.928.3090 to book your grizzly bear tour.