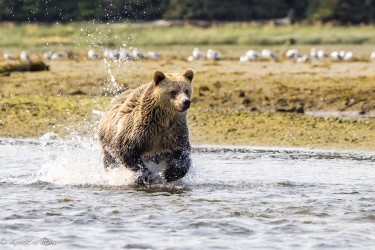 With more than 82,000 pink calorie packets to choose from (and a gazillion more to come!), what were once clearly bears are now looking more like overstuffed butterballs disguised in shaggy fur coats. As earlier reported, the premature arrival of what's amounting to be an unexpectedly humongous return of salmon has meant a one month feeding advantage for our residents and their extended kin whom continue to arrive for dinner at this fishtive time of year. That's BIG news for an animal that's only awake for six months of the year! Furthermore, August continues to be both dry and warm and while river temperatures are rising, energy levels for those eager spawners is dwindling and thus ursal catch success, even for those coordinationally-challenged tweeners, is proving nearly too easy!
Over the course of the summer, TideRippers have also been privileged to witness some truly incredible interaction between sisters Sitka and Cedar, and their one-time foster parent Bella and her two cubs. Lest we forget, that in the spring of 2013 it was Bella who tolerated the presence of the gruesome twosome whilst their mother Lenore abandoned them during her 3 week sexcapade. With increasing patience and an ever-watchful eye, Bella now goes about her beary busy business while Amber and Scout mingle and play with said sisters despite their one year age difference. For otherwise autonomous, wild animals (especially grizzlies!) to establish that level of trust is, if nothing else, not only heart-warming but also testimony to what an awesome mother Bella is (in case anyone had any doubt!).
And the feed goes on…
Grizzly bears and black bears, deer and wolves, eagles and an amazing array of seabirds, there's always something to see on a Tide Rip Grizzly Tour!!!
We depart at 0700am daily from historic Telegraph Cove bound for the spectacular Knight Inlet by covered water taxi, complete with onboard washroom. Cost starts at $319 per adult for this all day excursion and includes a light breakfast, healthy lunch and knowledgeable Guides.
Please call toll free 1.888.643.9319 orlocal 250.928.3090 to book your grizzly bear tour.