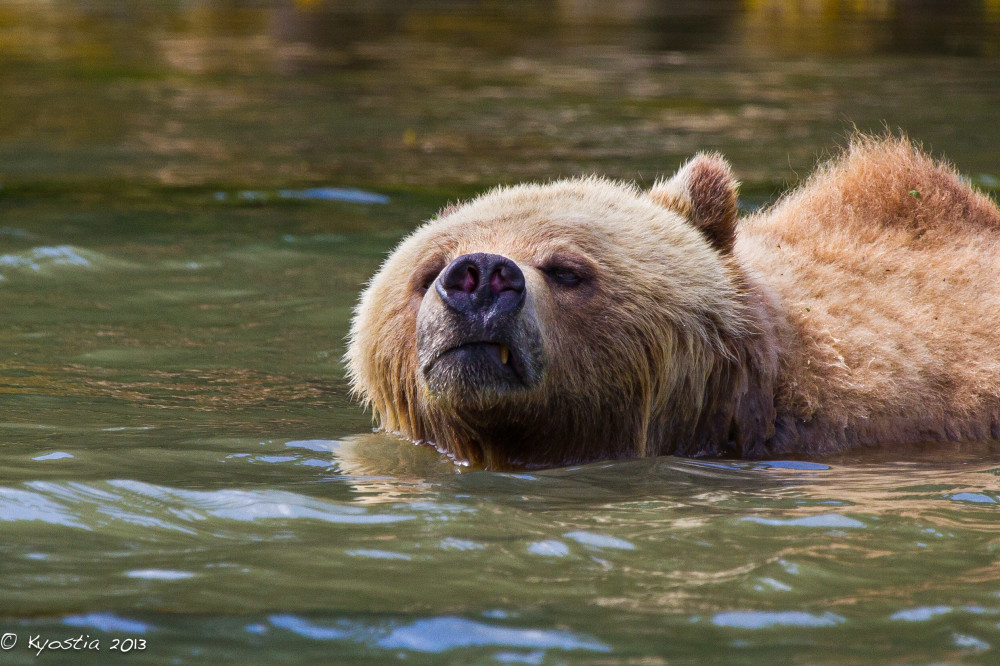 Well, well, well.  Look what the cat dragged in?!  Yes, paparazzi from around the world have had their shutters clicking as of late capturing rather unflattering images of dear Lenore, snaggle-toothed and unkempt and sporting unsightly bags under her eyes that suggest all those late nights have finally caught up to this delinquent mother-gone-wild.  She's alone now, leading one to believe that Stud Muffin Abraham has moved on to sow his wild oats in other coastal valleys, leaving Lenore to pick up the pieces of the shattered life she left behind that once included offspring, Sitka and Cedar.  Although it's obvious that the cubs want nothing more than the attention of their mother, the continued guidance of the sow that once gave their lives meaning, it's apparent Lenore has no interest in rekindling their bond.  Instead she merely tolerates their presence, paying absolutely no attention to them at all while she simply goes about her beary business.  Despite that, thankfully the girls still look healthy and strong and perhaps, if nothing else, their meagre association with their mother will be enough to ward off potential threats for the time being?
In other news, Bella is back in the neighbourhood following a brief hiatus back to the 'spring nursery'.  This following a reported attempted attack by a male that likely left her shaken.  The cubs are growing fast and have become more eating machine than the maternal terrors they once were.
Meanwhile the Rat Pack (Hewey, Dewey and Louie), seems to have disseminated for the summer season and we're starting to observe a few new faces around the Cove which is a sign of the times as the anticipation of the arrival of the salmon is beginning to mount!
Grizzly bears and black bears, deer and wolves, eagles and an amazing array of seabirds, there's always something to see on a Tide Rip Grizzly Tour!!!
We depart at 0700am daily from historic Telegraph Cove bound for the spectacular Knight Inlet by covered water taxi, complete with onboard washroom. Cost starts at $319 per adult for this all day excursion and includes a light breakfast, healthy lunch and knowledgeable Guides.
Please call toll free 1.888.643.9319 or local 250.928.3090 to book your grizzly bear tour.