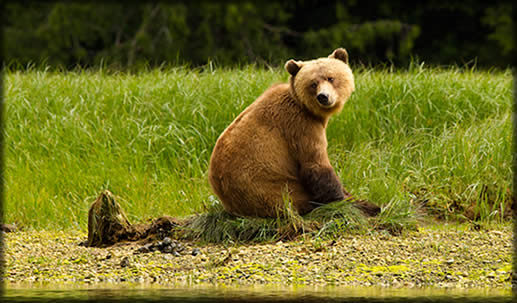 Whether it's simply spring fever or something in the air, there's drama unfolding in the backwoods of British Columbia. It's mating season! 'Lenore' (see picture), our 9 year old resident female has kicked her young son 'Peanut' to the curb and has now assumed the attention of BIG, bad 'Bruno' with the intentions to make cubs. Meanwhile Peanut, now just 27 months old is struggling with his new found autonomy and slowly coming to terms with the fact that is he definitively NOT the king of the forest that he once thought he was when under the watchful eye of Momma Bear. To that end, 'Bella' and her 2 precious second year cubs have steered clear of the mating drama and can now be found grazing on sedge and rolling rocks when the tide permits away from the estuary where she can enjoy some peace and quiet…
Black bears and eagles, deer and an amazing array of seabirds, there's always something to see on a Tide Rip Grizzly Tour!!!
We depart at 0700am daily from historic Telegraph Cove bound for the spectacular Knight Inlet by covered water taxi, complete with onboard washroom. Cost is $288 per person (including tax) for this all day excursion and includes a light breakfast, healthy lunch and knowledgeable Guides.
Please call toll free 1.888.643.9319 or local 250.928.3090 to book your grizzly bear tour.