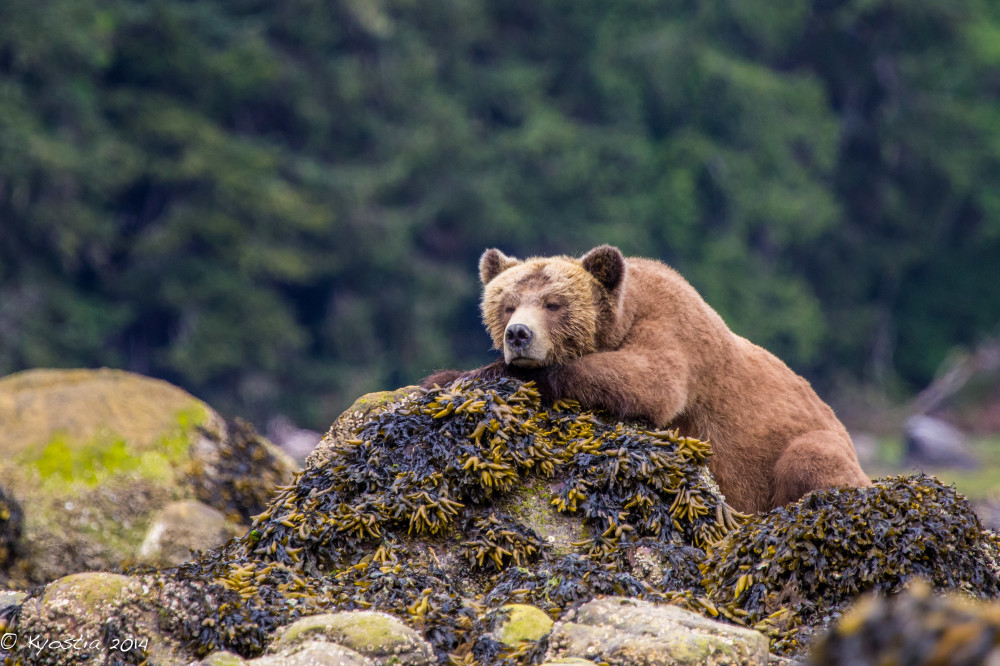 Recently ursal paparazzi's staked out deep within the Great Bear Rainforest caught this image of celeb bear Bella (aka 'Sky') seemingly exhausted and strewn over an intertidal boulder. Has her lead role in Disney's newly released 'Bears' tipped the balance for this exemplary mother-turned-silver-screen actress? Between autograph signings, talk show appearances, social engagements and the like, perhaps Bella just needs time to take a deep breath and regroup? Meanwhile supporting actors 'Amber' and 'Scout' are healthy and happy, completely oblivious to their star-status.
In other bearking news: Tiderippers are delighted to announce that 'Freya' is back on the scene! Not spotted since the devastating landslides of August 2013, we once feared the worst. However at 5 years old, the stunning beauty (the spitting image of her now famous mother back in the day) has been observed regularly.
As well: it's spring! And love is in the air. Despite the presence of both resident and visiting family groups, there is an elusive super stud present that to date remains unidentified. Who exactly this male of mystery is and what his intentions are and with whom remain unclear?!
You'll just have to stay tuned or, better yet, join us on a Grizzly Bear Expedition to see how this story continues to unfold!
Grizzly bears and black bears, deer and wolves, eagles and an amazing array of seabirds, there's always something to see on a Tide Rip Grizzly Tour!!!
We depart at 0700am daily from historic Telegraph Cove bound for the spectacular Knight Inlet by covered water taxi, complete with onboard washroom. Cost starts at $319 per adult for this all day excursion and includes a light breakfast, healthy lunch and knowledgeable Guides.
Please call toll free 1.888.643.9319 or local 250.928.3090 to book your grizzly bear tour.