Knight Inlet is the largest of the major inlets in the southern part of British Columbia's west coast. It is 111 km in length and about 2.9 km wide on average with maximum depth is 540 meters.
It is the first inlet from the south whose outflow points away from the Strait of Georgia. Knight Inlet outflows into Queen Charlotte Strait.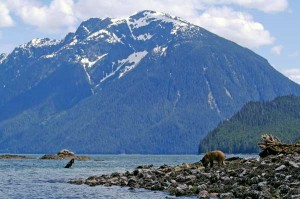 Knight Inlet Wilderness
Knight Inlet is a place where the spectacular snow-capped Pacific Coastal Range comes together with the lush temperate rainforest and the mighty Pacific Ocean. It is a pristine wilderness and home to an amazing variety of wildlife.
Knight Inlet's abundant salmon run, ideal habitat and the safety afforded by the creation of a Special Management Zone (i.e. no hunting), provides exemplary grizzly bear viewing potential. This is why we offer our grizzly tours in Knight Inlet.
Knight Inlet History
Knight Inlet has a very long and interesting history that includes the coastal First Nations, trappers, prospectors, fishers, and adventurers.
The inlet was first charted by William Broughton, George Vancouver's second-in-command during the first part of his 1791-95 expedition, in 1792.
It was named by George VANCOUVER in 1792 after John Knight, a British naval officer.