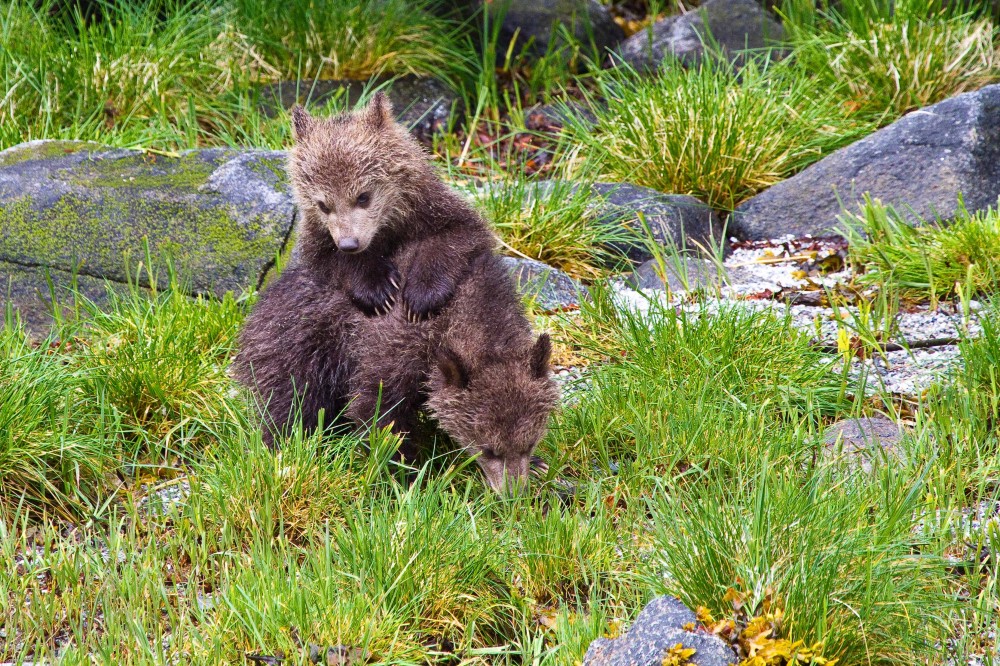 It would seem as though Lenore is having second thoughts, questioning her philandering promiscuity of yesteryear and seriously reconsidering her hormonal decision to breed with not one, but FIVE males as recent as last spring.  Since their emergence some days ago, it is very apparent that the cubs have one thing on their bear brains and one thing only:  wrastlin' with each other and exploring the fascinating world beyond the den.  Although extremely entertaining for the rest of us, poor Lenore is bound to a 27 month commitment, ensuring that the kids are safe and sound with many milky meals each day and a roof (of sorts?) over their heads.
In other ursus news, Bella has been observed spending alone time with a mysterious 'bearded' bear.  Despite his distinguished appearance however, at times it looks as though Bella wants nothing to do with the handsome bruin.  Is she just playing hard-to-get or are his aggressive late night bear hugs proving to be too much for this former model Mother turned Jezebel?!
Grizzly bears and black bears, deer and wolves, eagles and an amazing array of seabirds, there's always something to see on a Tide Rip Grizzly Tour!!!
We depart at 0700am daily from historic Telegraph Cove bound for the spectacular Knight Inlet by covered water taxi, complete with onboard washroom. Cost starts at $319 per adult for this all day excursion and includes a light breakfast, healthy lunch and knowledgeable Guides.
Please call toll free 1.888.643.9319 or local 250.928.3090 to book your grizzly bear tour.