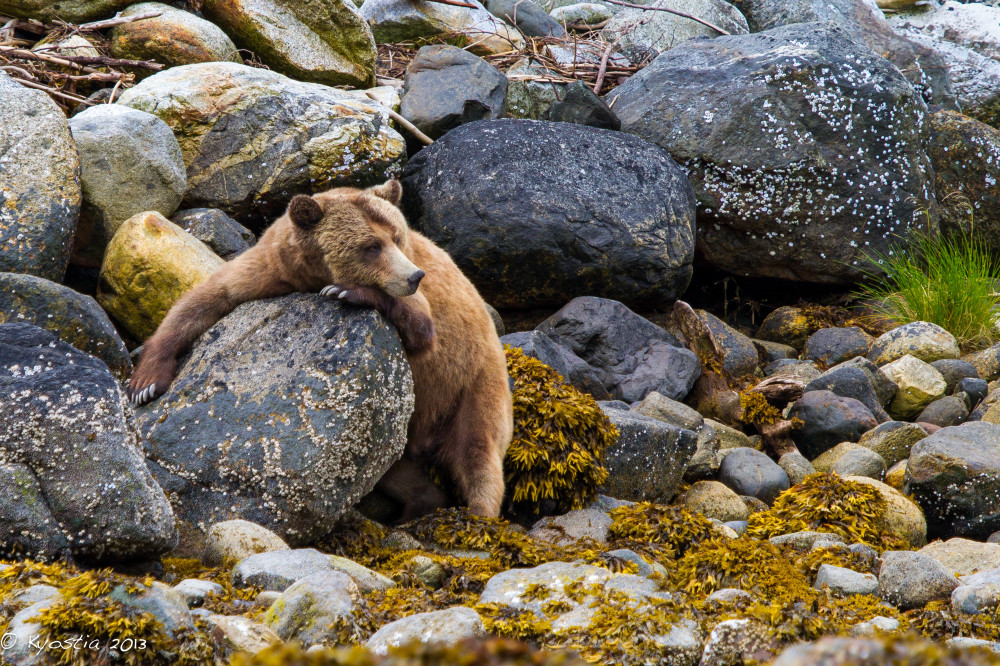 Seriously??!!  The ink hadn't even yet dried on last week's report, when lo and behold who should stagger out of the rain forest with cubs dangling from her teats but our very own Lenore.  According to the Canadian Cub Welfare Service, "this is a textbook case of the emotional and physical turmoil inflicted upon cubs generally associated with the parental promiscuity usually observed in males but very rarely seen in females".  It would seem that this is a recurring pattern of sociopathic behaviour by Lenore.  Lest we forget, that Peanut (Lenore's estranged son from her previous marriage) was the sole product of not one but FIVE fancy-free flings that Lenore threw herself at!  Hopefully, Sitka and Cedar will graze clear of their mother's immoral ways.
The lovely Bella is still out and about.  What with the sizzling summer season now upon us, she and the cubs have been lounging poolside (see above) when not actually soaking in the refreshing glacier bath of Knight Inlet to stave off the seasonal heat.
Although some of the younger generation seem to have wandered off, even if only temporarily, Tide Rip and the Cove's resident animals have welcomed a new family into the area.  We don't yet recognize her but her behaviour certainly suggests that she is familiar with the area and furthermore she's sporting two beautiful little COY.
All the bears, old and new, have migrated and are now staging at the rivers mouth, waiting impatiently for dinner to arrive.  We expect to see more and more new faces in the coming weeks.  Bears have high site fidelity meaning that the same bears move into the same familiar areas to harvest seasonally available foods.  They know that Knight Inlet is thee place to see and be seen!
Grizzly bears and black bears, deer and wolves, eagles and an amazing array of seabirds, there's always something to see on a Tide Rip Grizzly Tour!!!
We depart at 0700am daily from historic Telegraph Cove bound for the spectacular Knight Inlet by covered water taxi, complete with onboard washroom. Cost starts at $319 per adult for this all day excursion and includes a light breakfast, healthy lunch and knowledgeable Guides.
Please call toll free 1.888.643.9319 or local 250.928.3090 to book your grizzly bear tour.