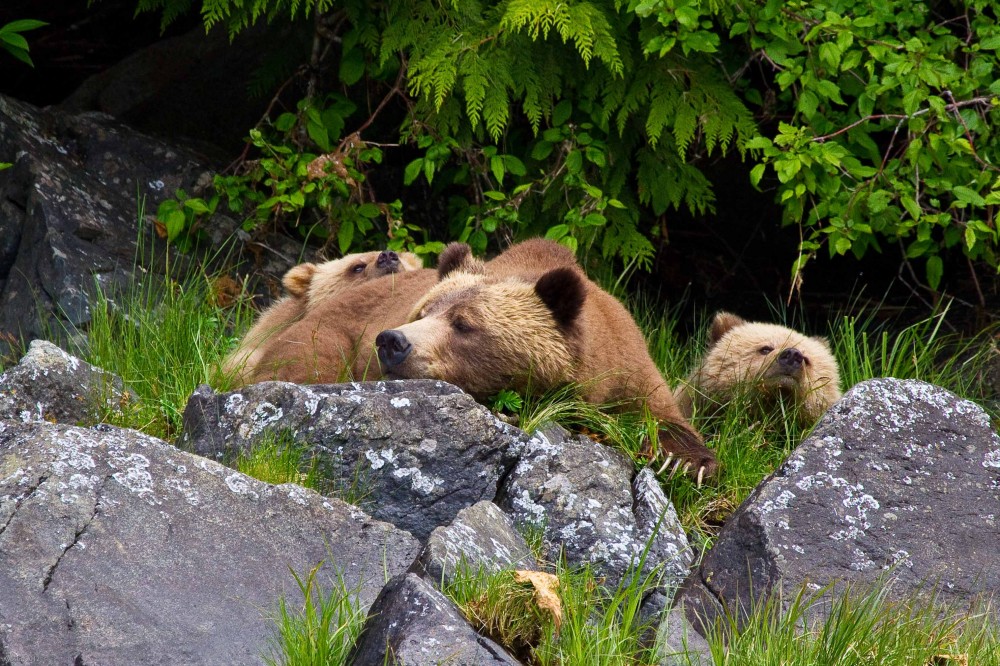 Rumours from deep within the Great Bear Rainforest claim that Bella has once and for all bid her two beauties good riddance!  In the wake of her sudden change of heart that has left the cubs' bearfuddled, she has since caught the eye of seasonal suitor, Bruno.  Primal roars of rapture continue to echo throughout the Cove…
Meanwhile Kinky (see above) has since returned to the neighbourhood and the Tide Rip team is delighted to observe that all three of her cubs survived the winter.  As well, long-time paparazzi favourite Lenore has descended from her mountain retreat with two mischievous COY (cub-of-year) in tow.  Watching COY struggle with their identities as grizzly bears as they slowly discover their new environment following release from darkened den arrest is undoubtedly the most entertaining of all bear surveillance!
Between all the Mamas and the Papas and their precious cubs, one Tide Ripper was inspired to ask:  'Where are we?  Jurassic Park?!'
Grizzly bears and black bears, deer and wolves, eagles and an amazing array of seabirds, there's always something to see on a Tide Rip Grizzly Tour!!!
We depart at 0700am daily from historic Telegraph Cove bound for the spectacular Knight Inlet by covered water taxi, complete with onboard washroom. Cost starts at $319 per adult for this all day excursion and includes a light breakfast, healthy lunch and knowledgeable Guides.
Please call toll free 1.888.643.9319 or local 250.928.3090 to book your grizzly bear tour.