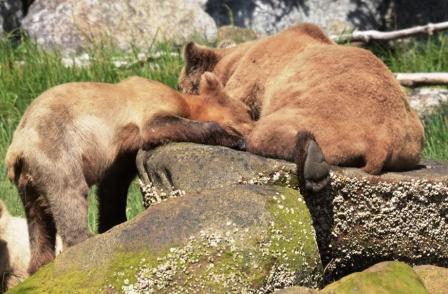 With Lenore sulking in and out of sight these days, it's safe to say that marks the conclusion of another mating season in the estuary.  All of her suitors have vacated the area for the time being and she is left pouting with remorse that her favourite time of year has come to a close. Apparently, her buffalo-sized stud of choice this year was not the type to stick around and cuddle afterwards.
In the absence of Lenore's line-up of lovers, the atmosphere has quieted down and has left the other residents to comfortably settle into their bear routine of impatiently waiting for the salmon to return, occupying their time moving slowly between the sedge, berries and intertidal while keeping a watchful eye on the river. But despite the tranquil backdrop that has Tide Rip guides and guests lulled into peaceful observation of the more sensitive sides of the famed horribilis, beloved mother Bella still has her hands full with fast growing youngsters. As a single working mother of two, Bella can't seem to find a moment to herself these days, always shuttling to and from soccer practice and correcting math problems as she's making supper; and just as she finds a nice sunny rock to rest her weary eyes for a moment's relaxation, inevitably there's a nudge at the teat: "Moooom, can I have a glass of milk?"
In other Knight news, transient orcas have been spotted hunting in the Inlet! All the haul-out rocks that would normally host a number of seals and sea lions are mysteriously empty as the Tide Rippers swing by on their journey through the watery passageways.
And was that a…a…salmon(!?) jumping in the outer bay?? Yes, indeedy! Historically the run has not returned until at least the last week of July.  Silver bright and still full of vigour, it seems as though all of our fuzzy friends may have to rearrange their Thanksgiving plans and reset the plates around the dinner table for an early arrival!
Grizzly bears and black bears, deer and wolves, eagles and an amazing array of seabirds, there's always something to see on a Tide Rip Grizzly Tour!!
We depart at 0700am daily from historic Telegraph Cove bound for the spectacular Knight Inlet by covered water taxi, complete with onboard washroom. Cost starts at $319 per adult for this all day excursion and includes a light breakfast, healthy lunch and knowledgeable Guides.
 Please call toll free 1.888.643.9319 orlocal 250.928.3090 to book your grizzly bear tour.