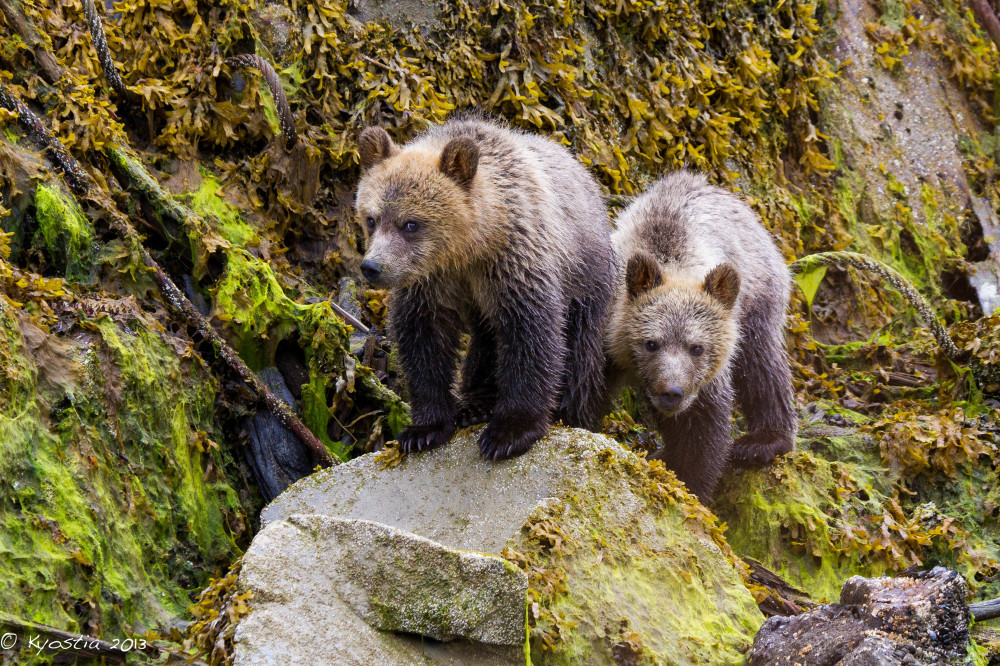 You read that right!  A massive naval force of Oncorhynchus gorbuscha have without warning risen from the sea and ambushed the tributaries of Knight Inlet.  Equally surprising as it is a relief, gorbuscha (the Russian-derived Latin name for pink salmon) have arrived in promising numbers and bears and bear-watchers alike couldn't be happier!  Although pink salmon (the smallest of the five Pacific species) have little recreational or commercial value, based on their abundance they are the species that is largely responsible for feeding the complicated Pacific Northwest coastal food web.  Given this, it is with cautious optimism that Tide Rippers hold their breath each and every season at this time of the year with the hopes that our local ladies will be rewarded for their patience.
In an act of retaliation, the 'Fish-n-Chicks' have amassed a tactical defence led by none other than Horribilus Colonel Lenore and Chief Ursus Commander Bella.  According to secret documents obtained via WikiLeaks, the Fish-n-Chicks will be employing an intensive engagement of full annihilation, strategically positioning the many new sows and cubs at each and every riffle zone with little chance of catch and release.  Armed with state-of-the-art weaponry including disembowelling 12cm claws and large shearing canines and capable of attaining speeds of 50km/h it would seem as though gorbuscha stands little chance in this war of the worlds where land meets sea.
Stay tuned for further developments!
Grizzly bears and black bears, deer and wolves, eagles and an amazing array of seabirds, there's always something to see on a Tide Rip Grizzly Tour!!!
We depart at 0700am daily from historic Telegraph Cove bound for the spectacular Knight Inlet by covered water taxi, complete with onboard washroom. Cost starts at $319 per adult for this all day excursion and includes a light breakfast, healthy lunch and knowledgeable Guides.
Please call toll free 1.888.643.9319 or local 250.928.3090 to book your grizzly bear tour.