Admittedly, there is something undoubtedly pathetic about your grown son still nursing  the ripe old age of 28!?  All the Mothers in the house, are you with me???!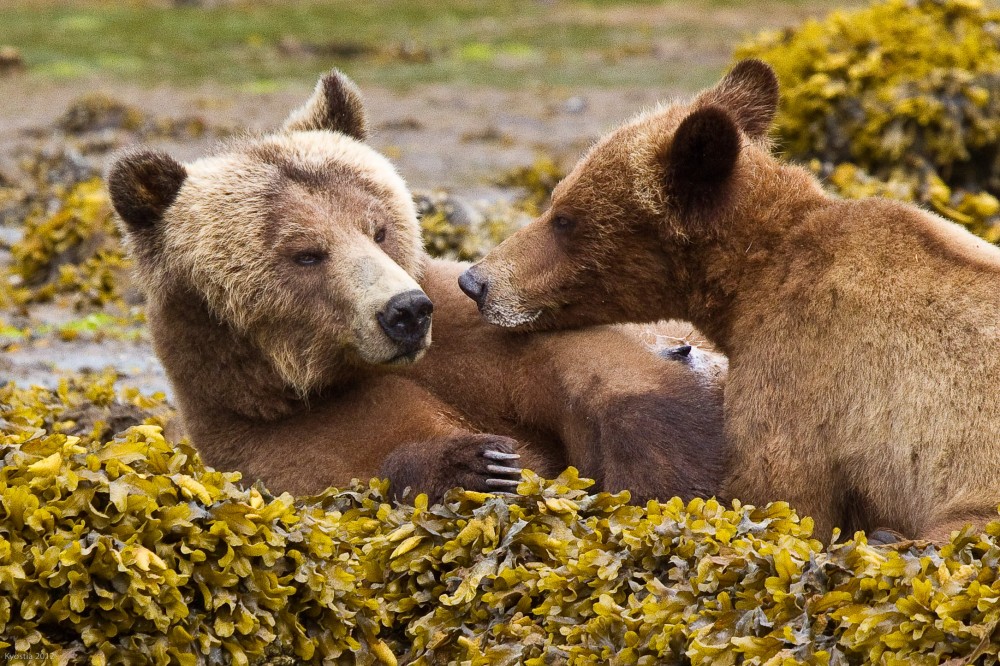 However, perhaps as the imminent day of their estrangement creeps ever closer, Bella generously offered Tide Rippers a parting gift they will most certainly never forget:  ten sanctified minutes witnessing an intimate, more often discrete, bonding experience between a Mother and her offspring.  There were some tense moments soon after having set anchor, as it was with undeniable determination that Bella and her cubs marched down towards the boat.  But those anxieties were quickly quelled as she plunked herself down nearby amongst the intertidal rockweed and assumed the prone position whereby her cubs ferociously attacked her with unbridled fervour.  Even between the clicking of shutters and the springtime calls of the wild, their purring of contentment could easily be heard.
Unanimous verdict:  mind-blowing!!!
 Grizzly bears and black bears, deer and wolves, eagles and an amazing array of seabirds, there's always something to see on a Tide Rip Grizzly Tour!!!
 We depart at 0700am daily from historic Telegraph Cove bound for the spectacular Knight Inlet by covered water taxi, complete with onboard washroom. Cost starts at $319 per adult for this all day excursion and includes a light breakfast, healthy lunch and knowledgeable Guides.
 Please call toll free 1.888.643.9319 or local 250.928.3090 to book your grizzly bear tour.