Grizzly Tours Location
Enjoy the majesty of the coastal mountains as we explore spectacular Knight Inlet to find grizzly bears in the spring. As the snows melt, both black and grizzly bears emerge from their hibernation dens on the mountain slopes.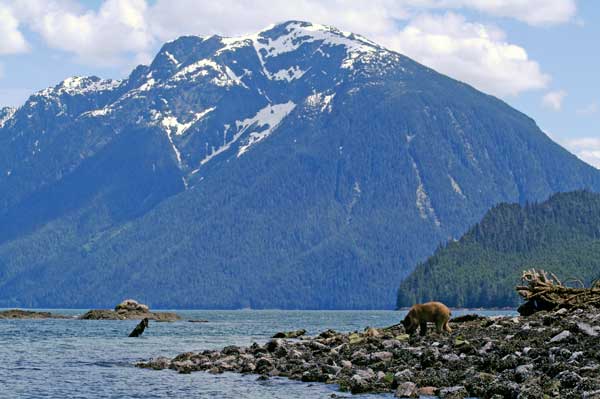 ---
Hungry bears make their way down to feed on the spring sedge grasses in the river lowlands. Sedges have 20% vegetable protein value, enough to sustain the grizzly bears.
---
At low tide the grizzly bears feed along the inlet beaches, eating seaweed and turning over rocks to find crabs, barnacles and mussels. Many of the young grizzly bears are blond in the spring.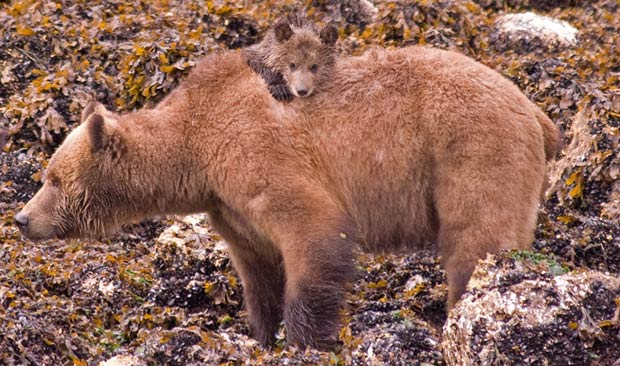 ---
Grizzly bears are conserving energy this time of the year. They get up late, and take siestas when ever they feel safe.
---
Late May to mid June is the mating season with lots of interesting interaction. The big grizzly bears chase the not-too-interested females, displacing other bears along the beach. Certainly this is our favourite time of the viewing season.
Grizzly Tours Safety
We view the grizzly bears from the safety and comfort of our big flat bottom viewing boats. Their shallow draught gets us in close to the action.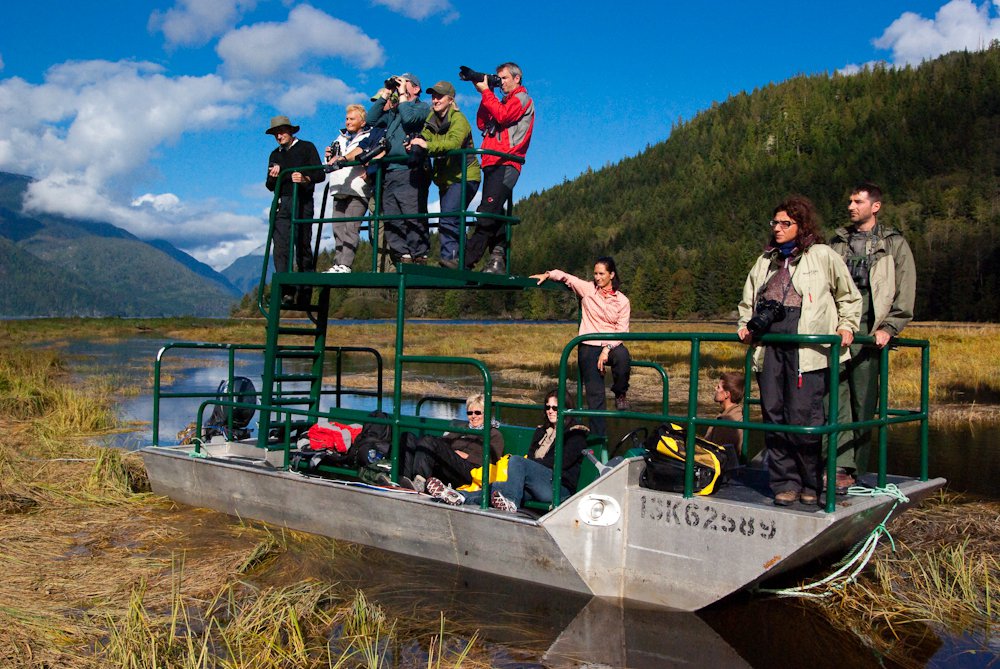 ---
Grizzly Tours – Grizzly Cubs
Mid July is the season of cubs scrambling along behind their mom as they first explore their wilderness home. The grizzly mom is very protective of her cubs as she teaches them bear survival.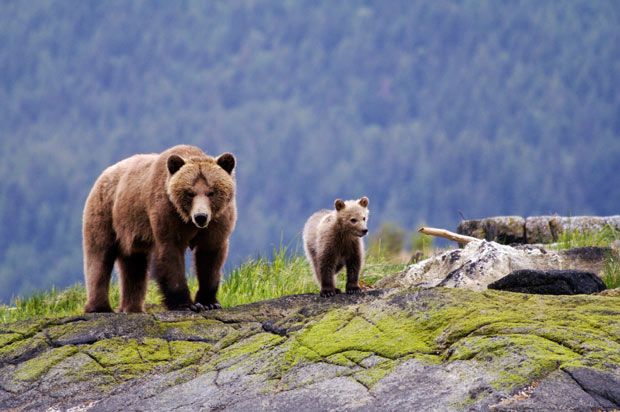 ---
Tide Rip Tours offers the only day trips by water taxi from Telegraph Cove to see the grizzlies in Knight Inlet. $299 per adult, $240 per child 8 to 16 years. No children under 8 years. Includes tax.
Lunch
Enjoy a great lunch amidst the splendid scenery of Knight Inlet.
Departure and Return
Tours depart 7am, return 4pm.
Please note:
we do not take pregnant women nor people with back or neck problems. We operate many miles from a hospital and medical care.
We do not guarantee bear sightings, we do the best we can to get you close to the action. In 2011 we had a 95% sighting rate. In 2012 about 97%.
Please bring a good pair of binoculars. You can purchase a good set at www.tiderip.com/store and pick them up on the morning of your tour.
Children 8 to 16 are welcome at $240 per child, All tours subject to a 4 person minimum.
Book Your Grizzly Tours Adventure!
For more information check the Frequently Asked Questions…
Visit the Grizzly Tours Calendar for our spring & summer bear tour schedule.