Tide Rip HQ is located in Telegraph Cove (Kwak'wala: tuǥwasu meaning tight little entrance), a picturesque  community of multi-coloured heritage buildings nestled in the heart of the Great Bear Rainforest on northern Vancouver Island in British Columbia, Canada.  It is a former fishing and cannery village that has become a launch point for eco-tourism.
A century ago, the community grew out of a one-room station at the northern terminus of the Campbell River telegraph line from which loggers, fishermen and pioneers would stay in touch with the outside world.  The father of community pioneer Fred Wastell, purchased most of the land around the cove and together with Japanese investors, he established a chum salmon saltery and a small sawmill.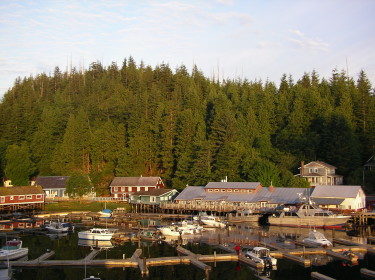 Today, Telegraph Cove's economy is based primarily on tourism due to its prime location on Johnstone Strait and its proximity to Robson Bight ecological reserve. Not only does Telegraph Cove serve as the send-off point for bear watchers, but kayakers, whale-watchers and fishers as well who flock to the hyper-productive waters of Johnstone Strait which separates the northern part of Vancouver Island from the rest of British Columbia.
Getting to Telegraph Cove…
Fortunately, the tiny community of Telegraph Cove is located at a transportation hub.  One can easily arrive into Port Hardy (1 hour commute north of Telegraph Cove) by water from the north via BC Ferry or from any direction by air.  Alternatively, there is unlimited access by road for both private and public vehicles along well-maintained, well signed paved Highway 19 which meanders through the rainforest and affords views of spectacular mountain vistas.  Along the way be sure to watch for black bears, elk and maybe even a cougar!
IMPORTANT NOTE:  Telegraph Cove is approximately 15 km off of Highway 19.  The paved turnoff has excellent signage with ample forewarning.  Some of our guests have relied on onboard GPS systems which have provided misleading information resulting incorrect routing.
Telegraph Cove is approximately…
…2.5 hours (200 km) drive north of Campbell River.
…6 hours (466km) drive north of Victoria.
…6 hours (471 km) drive northeast of Tofino.
…7 hours (434 km including a 2 hour ferry) drive north of Vancouver.
For distances, directions and estimated driving times to Telegraph Cove please use these co-ordinates 50.544766, -126.833653 for the roadway entrance to Telegraph Cove. Or use Google Maps below:
Finding Tide Rip's office in Telegraph Cove
The Tide Rip Tours actual office is on the west side of Telegraph Cove, located at the end of the old wooden boardwalk . After parking your car, look at the ocean water and start walking on the left-hand side on the wooden walkway past the old funky houses and cabins. The office is on the right-hand side of the boardwalk, directly opposite the Stubbs Island Whale Watching.
A Friendly Warning…
A friendly warning about distances in Canada. Canada is big. REALLY big! Travel agents from abroad tend to sell driving tours with hotel stops that are too far apart for you to experience the real Super Natural BC that is off the beaten track. Give yourself time to experience our native animals and awesome wilderness areas.
"Alive, the grizzly is a symbol of freedom and understanding – a sign that man can learn to conserve what is left of the earth. Extinct, it will be another fading testimony to things man should have learned more about but was too preoccupied with himself to notice. In its beleaguered condition, it is above all a symbol of what man is doing to the entire planet. If we can learn from these experiences, and learn rationally, both grizzly and man may have a chance to survive."
~Frank Craighead ("Track of the Grizzly", 1979)