Telegraph Cove is on Vancouver Island, B.C.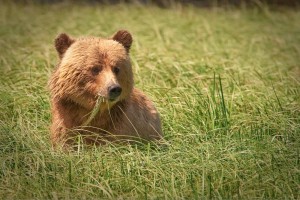 Vancouver Island:
Length : 454 Km (282 miles)
Width : 100 Km (62 miles)
Area : 32,134 sq. Km (12,408 sq. miles)
Latitude … 49 degrees 57 min. 4 sec. N
Longitude … 125 degrees 16min. 10 sec. W
Getting to Telegraph Cove
Telegraph Cove is about 2 hours drive north of Campbell River on good highway though forest and mountain scenery. Watch for black bears and elk. Note that Knight Inlet is to the east of Telegraph Cove on the mainland (there are no grizzly bears on Vancouver Island).ger Map
Campbell River Bus Terminal, ph. (250)287-7151 Bus leaves Campbell River 12:15 daily for Port McNeill (arrives about 3 pm), right at the bus stop is the taxi stand, the charge to Telegraph Cove is about $35.
Getting here from…
Victoria
Travel north on Highway 19, approximately 5 hrs. People with more time can travel the more scenic Oceanside Route (19A). Rent a car at Budget Car Rentals  (world wide toll free1-800-268-8900).
Have lunch at the Atlas Cafe. Check out the Elasmosaur at the Courtenay Museum, walk though the unique Woodland Gardens by Kitty Coleman Creek,
Drive the inland island highway #19 to Telegraph Cove. If you want an RV to rent, try Courtenay Car Rentals 1-800-663-0194.
For bus line schedule look at Vancouver Island Coach Lines ph.250-388-5248 see Greyhound Bus Lines and enter Victoria, BC and Port McNeill for their 530am departure from Victoria to arrive in Port McNeill about 3pm. Comox Valley has an international airport, Comox Valley Airport - YQQ, a great way to get to the island from Calgary and Edmonton via Westjet.
Vancouver
Take BC Ferries 1-888-223-3779 to 2 hours to Nanaimo from Tsawassen or Horseshoe Bay (sometimes you can spot killer whales from the ferry). Drive Nanaimo to Telegraph Cove in 4 hours.
Seattle
Drive north to either Port Angeles on Highway 99 (take the M.V. Coho (Blackball Transport to Victoria) or Vancouver on Highway I -5 then take BC Ferries to Nanaimo from Tsawwassen or Horseshoe Bay. Once in Victoria or Nanaimo, you can drive north to Telegraph Cove as described above.
Alternatively, there are scheduled flights from Seattle-Tacoma Airport to Campbell River and Port McNeill, with Kenmore Air   and NW Seaplanes.
Corilair Charters (250) 287 8371 offers service from Campbell River and more northerly destinations (watch for whales and sea lions from the air; you might be able to get pictures of Mount Waddington, the highest mountain in BC).
A Friendly Warning
A friendly warning about distances in Canada. Canada is big. Travel agents in Europe tend to sell drive tours with hotel stops that are too far apart for you to experience the real Super Natural BC that is off the paved track. Give yourselves time to experience our bears and their wilderness. Also for the folks from England who find that there are "too many trees in Canada…one drives for miles without a town…" Sorry about that!
"This is why we love Canada"
Finding Tide Rip in Telegraph Cove
Contact Information:
Tide Rip Grizzly Tours 1-888-643-9319 (bears)
Telegraph Cove Resorts 1-800-200-4665 (lodgings)
Stubbs Island Whale Watching 1-800-665-3066 (orca whales)
BC Ferries 1-888-223-3779 (big canoes)