COME FOR THE ADVENTURE
Tickle your sense of fun and adventure as your BC Guides help you explore the breathtaking scenery and exciting wildlife in the waters of Vancouver Island.
Whisk yourself away from the stress and pace of everyday life. Expect the unexpected and find magical moments in the beauty of nature.
We travel by covered aluminum boat which has a washroom and seats for 12 passengers. Along the way we often see black bears on the low tide beaches, bald eagles, harbour and Dall's porpoises, seals and sometimes dolphins and river otters. Seabirds we encounter include marbled murrelets, murres, pigeon guillemots, rhinoceros auklets, Bonaparte gulls, Arctic terns, Western sandpipers and turnstones.
Marine animals and birds need undisturbed access to their food source, social gatherings and nesting sites. We view from appropriate distances, close enough for pictures but not too close.
Why do we want to show you our magnificent wildlife? Viewing wildlife aids in their conservation. People come to see, then get excited about supporting wildlife conservation here or in their local area. The last 30 years have seen a radical shift in people's attitude about Orca whales through whale watching tours, interaction in aquariums, movies and school programs. We to can do the same for the grizzly bears and black bears.
Certified BC Bear Guides
HOWARD PATTINSON ~ Owner/Captain
Our company is run by Howard Pattinson of Comox, a knowledgeable BC guide with over 50 years experience in these waters. Whether exploring a remote sandy beach or watching grizzlies, Howard's local knowledge brings you nose to nose with nature. His experience with everything marine brings you safely home with a renewed sense of wonder.
"You are in good hands…"
DARYL DANCER ~ Naturalist/Artist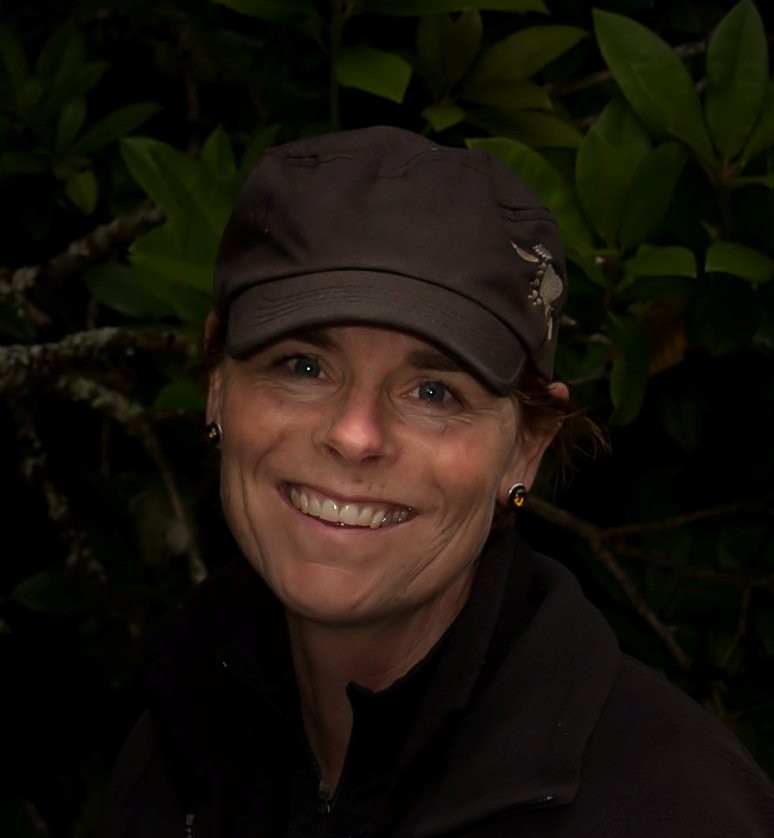 Daryl is an artist and naturalist and full grizzly bear viewing guide. She is a qualified captain with years of experience in many types of vessels in waters from the East Coast to the West Coast and waters in between. In the off season, Daryl volunteers with the Royal Canadian Marine Search and Rescue (RCM-SAR) as a Coxswain in charge of a marine search and rescue crew.
As an artist Daryl uses her art work to show how we are connected with the ecosystem, of which we are a part of. Her medium of choice is fiber. Whenever possible, she re-purposes paper into han
d spun thread for weaving and has on occasion used grizzly bear scat (spring time scat with sedge) to make hand made pooh paper.
As a naturalist, Daryl invites you to share together our connectedness to the landscape. To explore our natural surroundings on a more intimate level, to look through the visual surface and delve into the world of nature not readily seen by most.
TERESA WHIPPLE ~ Naturalist/Captain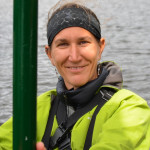 It was love at first breathe of island air for Teresa, a native of Tennessee in the U.S., when she first stepped foot on Vancouver Island in 2009. These days, she has her own driving lane at the border crossing and the passport control in Victoria simply roll their eyes.
After graduating Teresa lived in Germany, working in a forestry project just outside Nuernberg in Bavaria. Furthering her innate interest in the natural world and supporting her beliefs of respectful coexistence with everything wild, it was her experiences in this position that would mold the guidelines for her occupational pursuits. With an ear for dialect, Teresa promotes the connection of language and feeling, a communication that can transpire with or without words, through intrinsic awareness and closeness to surrounding environment. She has since worked in seasonal employment across North America, Asia and Europe that accentuates a simplistic, elemental lifestyle.
However, it was upon her first visit to Vancouver Island and ultimately to Knight Inlet that Teresa found the culmination of her personalized wabi-sabi-philosophy flourishing before her eyes. She is thrilled that her passions have become a reality working with the Tide Rip Team, sharing glimpses of an untamed world that deserves reverence and dedicated preservation with other wilderness enthusiasts, and she is delighted to have the opportunity to share the piece of British Columbia that captured her own heart.
For the first time this winter Teresa will be giving walking wildlife tours on the breeding and molting beaches of the Southern Elephant Seals on Peninsula Valdes in Patagonia, Argentina. Between seasons you can find her south of the border observing grey whales up and down the Pacific Coast as they make their annual migration from their feeding grounds in Alaska to their breeding grounds in Mexico. On the weekends Teresa provides educational wine tasting tours in the Paso Robles AVA region, (the forced power point presentation rarely thwarting the enthusiasm,) in central California.
JOHN LAPP ~ Captain/Naturalist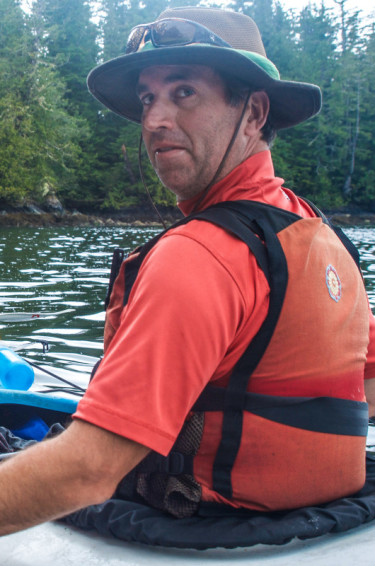 John was born and raised in Montreal and knew one day he would 'go West' in search of adventure. He found it working in the tourism industry as a whitewater raft guide in 1997 on the Thompson River and has worked in the tourism industry ever since as a guide, boat captain and tourism consultant. As a consultant John has worked in every corner of Canada's Arctic assisting communities and companies in developing their own tourism products.
Being a business owner at Mount Washington allows him to reach his goal of skiing over 50 days every winter. Other passions include traveling with his family, mountain biking, sea kayaking and wildlife viewing. John is an active volunteer in the Comox Valley, he can be found coaching soccer, basketball and playing his guitar with Comox Valley FiddleJam.
Professionally John's goal has always been to share beautiful places and unique experiences with visitors. He is fresh off of two years of skipping whale watching and grizzly tours out of Campbell River and is very excited to return to Telegraph Cove. John has a 'thing' for the grizzlies of Knight Inlet where he guided visitors on grizzly bear tours in 2010.
John is a Transport Canada Certified Marine Captain with a Bachelors Degree in Geography and a Diploma in Adventure Tourism.
MATT ALLEN ~ Naturalist
At the age of 13 Matt sighted his first bear, a strange, bewildering sight for a young Englishman. The bears immense size and power captured his imagination and started what will be a life long love affair with these enigmatic creatures. Fast forward 8 years; Matt now has a biology degree from a prestigious British university and a plethora of wilderness experience. From trekking around Patagonia, to camping with grizzly bears in Alaska, Matt's passion for all things wild have led him to some truly remarkable places, with animal encounters he could have only dreamed of. Matt's enthusiasm for bears is heightened through his guiding where he loves to educate and show off these beautiful animals, unconstrained and free from mans destructive touch.
Through his love of bears Matt hopes to educate, inspire and awaken guests inner grizzly spirit!
An avid photographer and filmmaker Matt also hopes to one day shoot his own feature film on bears and showcase these animals and their plight against increasing threats from mankind, most notably habitat destruction, poaching and trophy hunting.
KYLE ARMSTRONG ~ Naturalist
Kyle grew up on the Sunshine Coast of British Columbia amidst an interesting milieu of rural development, fish farms, salmon declines, and first nation sovereignty struggles. It was here Kyle developed an intrinsic curiosity and respect for what makes our coastal communities healthy, resilient and sustainable. He pursued these interests with formal education to the University of Victoria on Vancouver Island where he earned a degree with a double major in Anthropology and Environmental Studies. His degree focused on the Social-Ecological Systems of the Pacific Northwest Coast and culminated in an ecological methods field course in the Great Bear Rainforest.
Since graduating university he has followed his interests to the Andes and cloud forests of South America where he helped catalogue plants into a resource for local guides and studied the mating behaviour of tree frogs. Last summer he traveled to South Africa and assisted on a rhino poaching study that explored human elements across stakeholder classes. In Canada Kyle has worked passionately to restore salmon habitat, estuaries and Garry oak ecosystems.
Kyle joins us from Tofino on the west coast of Vancouver Island where he enjoys surfing, kayaking and fishing. He is incredibly excited to be a part of the Tide Rip team that promotes respect and conservation through coexistence. He is looking forward to interacting with guests and grizzlies in what is one of the world's greatest majesties, The Great Bear Rainforest.
JAMES SERRANO ~ Naturalist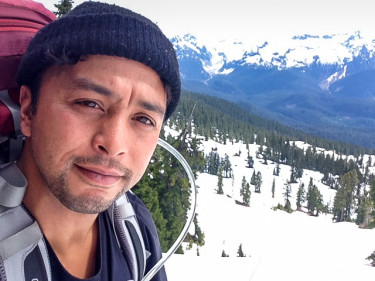 Being born and raised on the northern tip of Vancouver Island has inspired nature into James from the time he could remember. The luscious landscapes, the freshest air, the majestic wildlife, the endless rivers and the wildest oceans were, and still are, a playground paradise.
From his teenage years to young adulthood, James lived with his family in Ventura County, California where he enjoyed his studies in Oceanography and Marine Biology which primary focused on the Channel Islands National Park and surrounding areas.
For many years thereon, James would travel back and forth from British Columbia to California living everywhere in between thanks to skateboarding and his love of exploration. During that time, he worked many seasonal jobs including snowboard instructor, Christmas tree grower, landscaper and in plant nurseries.
To this day, James lives a very active lifestyle. Hiking/backpacking, camping, kayaking, skateboarding, snowboarding, cycling, studying and traveling abroad are some of things he enjoys doing.
He is very delighted to share his passion of the BC coastline with any guest that comes aboard a Tide Rip tour.
"Bears keep me humble. They help me to keep the world in perspective and to understand where I fit on the spectrum of life. We need to preserve the wilderness and its monarchs for ourselves, and for the dreams of children. We should fight for these things as if our life depended upon it, because it does."
~Wayne Lynch ("Bears: Monarchs of the Northern Wilderness", 1993)