COME FOR THE ADVENTURE
Tickle your sense of fun and adventure as your BC Guides help you explore the breathtaking scenery and exciting wildlife in the waters of Vancouver Island.
Whisk yourself away from the stress and pace of everyday life. Expect the unexpected and find magical moments in the beauty of nature.
We travel by covered aluminum boat which has a washroom and seats for 12 passengers. Along the way we often see black bears on the low tide beaches, bald eagles, harbour and Dall's porpoises, seals and sometimes dolphins and river otters. Seabirds we encounter include marbled murrelets, murres, pigeon guillemots, rhinoceros auklets, Bonaparte gulls, Arctic terns, Western sandpipers and turnstones.
Marine animals and birds need undisturbed access to their food source, social gatherings and nesting sites. We view from appropriate distances, close enough for pictures but not too close.
Why do we want to show you our magnificent wildlife? Viewing wildlife aids in their conservation. People come to see, then get excited about supporting wildlife conservation here or in their local area. The last 30 years have seen a radical shift in people's attitude about Orca whales through whale watching tours, interaction in aquariums, movies and school programs. We to can do the same for the grizzly bears and black bears.
Certified BC Guides
Our company is run by Howard Pattinson of Comox, a knowledgeable BC guide with over 50 years experience in these waters. Whether exploring a remote sandy beach or watching grizzlies, Howard's local knowledge brings you nose to nose with nature. His experience with everything marine brings you safely home with a renewed sense of wonder. "YOU ARE IN GOOD HANDS."
LINDSEY PATTINSON ~ Tide Rip Guide
Lindsey has been with Tide Rip Tours since 2001, fully certified as a Trans
port Canada passenger Captain, leading tours since 2004. He was born in BC and grew up on Vancouver Island.
He is one of the directors at the Commercial Bear Viewing Association of BC. Lindsey likes to feel apart of his surroundings and help others to reconnect with Nature.
Lindsey has friends and family in Comox, BC. He has lived in Colombia, South America and travelled to western Europe. He is grateful to have been invited to several potlatches at the Alert Bay Big House and to work in nature.
DEREK KYOSTIA ~ Naturalist/Photographer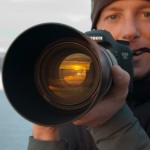 Raised along the wild shores of Lake Superior, it was at an early age that Derek first became fascinated by the natural world around him.  Not surprisingly, Derek went on to earn a degree in biology and, while still hot from the press, he spread his wings and migrated westward.
Derek dabbled in fisheries for several years, serving remote postings up and down the coast of British Columbia where he was left with only the seasonal cycles of the temperate rainforest to ponder.  Although the solitude of these positions proved integral in his personal development, he yearned to share these intimate encounters and observations of nature and promote their preservation with other naturalists.  Little did he know, but this would serve as a foundation for what would become his career passion.
In the interim, Derek sought channels through which to combine his intrigue for wildlife with opportunities to explore exotic landscapes abroad.  He has been fortunate enough to have participated in avian and wildlife research projects in Australia, Mexico and all the western provinces of Canada.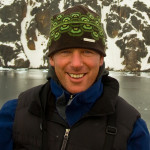 For more than a decade now, Derek has been dedicating his time between the grizzly bears of coastal British Columbia, the polar bears of the Arctic and the penguins of Antarctica as an Interpretive Naturalist.  He appreciates and is excited by the prospect of interaction with other enthusiasts and the privilege to learn from and meet new people from around the world.
In addition to his Bachelor of Science degree in biology, Derek also possesses a Masters Limited Captains License as well as a number of other pertinent certifications, all backed by several years of experience.  Furthermore, both his professional and personal pursuits, including rock climbing, mountaineering and back country skiing have given him confidence and practical skills acquired by extensive periods spent in the field.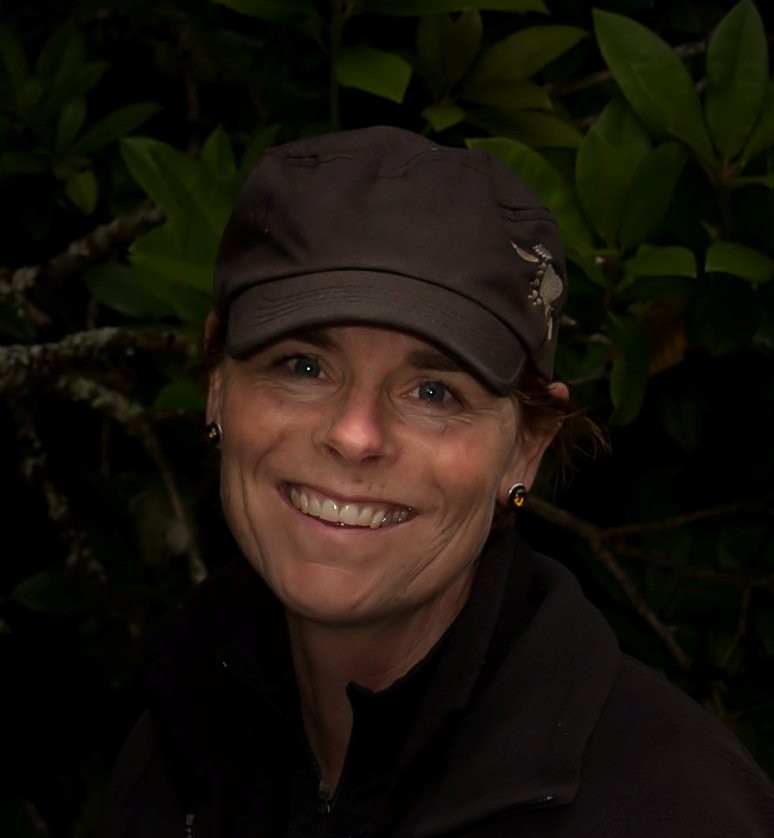 Daryl is an artist and naturalist and full grizzly bear viewing guide. She is a qualified captain with years of experience in many types of vessels in waters from the East Coast to the West Coast and waters in between. In the off season, Daryl volunteers with the Comox Coast Guard Auxiliary as a Coxswain in charge of a marine search and rescue crew.
As an artist Daryl uses her art work to show how we are connected with the ecosystem, of which we are a part of. Her medium of choice is fiber. Whenever possible, she re-purposes paper into han
d spun thread for weaving and has on occasion used grizzly bear scat (spring time scat with sedge) to make hand made pooh paper.
As a naturalist, Daryl invites you to share together our connectedness to the landscape. To explore our natural surroundings on a more intimate level, to look through the visual surface and delve into the world of nature not readily seen by most.
MARK HALPIN ~ Naturalist/Artist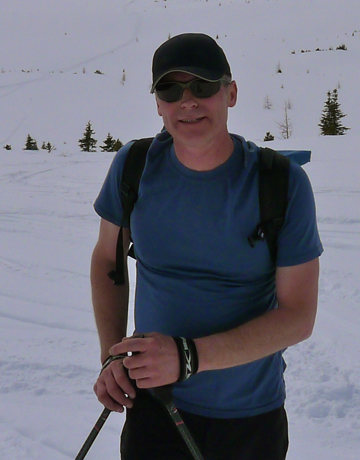 Mark was born on Prince Edward Island on Canada's east coast and raised in Ontario. He proudly joins the Tide Rip team with over thirty years of canoeing, backpacking and mountaineering experience from throughout western North America. When not out exploring the backcountry, Mark is an award-winning artist.
For the last twelve years, Mark has been balancing his seasons between Canmore, Alberta where he lives and Telegraph Cove. His great interest for the West Coast has inspired Mark to volunteer his time as an Artist-in-residence at the Whale Interpretation Centre (WIC) as well as a Deckhand with Tide Rip.
His involvement with the WIC has provided him with unique opportunities to participate in special projects where Mark uses his skills as an artist to cast animal prints, carve bones, and articulate whale and other marine skeletons to be displayed in the whale museum. The crescendo of Mark's animalistic artisan works however may have been his involvement with the Blue Whale Project, entitled Raising Big Blue which is permanently on display at the Beaty Museum, University of British Columbia.
More recently, Mark has completed training requirements to become both a licensed commercial boat captain as well as a certified grizzly bear viewing guide. Bringing together a genuine love for the outdoors and a natural inclination to express himself through art, Mark has found his place and peace in a career that marries both. His fortunate predicament is only made sweeter with the opportunity to share that enthusiasm and experience with others in a spectacular wilderness setting.
As an Artist and Naturalist, Mark believes that:
"Art is a natural appendage of the human spirit that everyone has access to. It is a
decision whether or not we choose to develop and express it."
TERESA WHIPPLE ~ Naturalist/Interpreter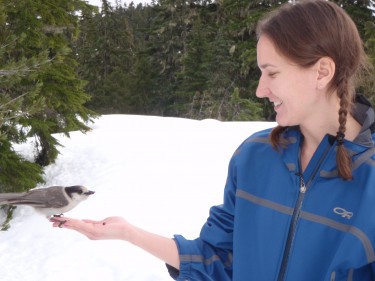 It was love at first breathe of island air for Teresa, a native to Tennessee in the U.S., when she first stepped foot on Vancouver Island in 2009. By now, she has her own driving lane at the border crossing and the passport control in Victoria simply rolls their eyes.
After graduating Teresa lived in Germany, working in a forestry project just outside Nuernberg in Bavaria. Furthering her innate interest in the natural world and supporting her beliefs of respectful coexistence with everything wild, it was her experiences in this position that would mold the basis for her occupational path. She has since worked in seasonal employment across North America, Asia and Europe that accentuates a simplistic, elemental lifestyle, but it was upon her first visit to Vancouver Island and to Knight Inlet that Teresa found the culmination of her personalized wabi-sabi-philosophy flourishing before her eyes. She believes in nurturing the connection between man and nature through the fusion of language and feeling. This relationship can thrive with or without words, with intrinsic awareness and closeness to surrounding environment. Teresa is thrilled that her passions have become a reality working with the Tide Rip Team, sharing glimpses of an untamed world that deserves reverence and dedicated preservation with other wilderness enthusiasts, and she is delighted to have the opportunity to share the piece of British Columbia that captured her own heart.
During the late fall and winter months, Teresa heads south for a second summer on Peninsula Valdes in Argentina. She guides on a historic sheep ranch in the wilds of Patagonia, leading excursions in a private setting viewing native mammals of the region, and giving walking tours on the breeding and molting beaches of the Southern Elephant Seal.
Interim spring finds Teresa in central California, where she divides her time 'between summers' among several pursuits: observing grey whales up and down the Pacific Coast as they make their annual migration from their feeding grounds in Alaska to their breeding grounds in Mexico, on the occasional weekend giving educational wine tasting tours in the Paso Robles AVA region, and volunteering for two organizations dedicated to the protection and rehabilitation of coastal wildlife.