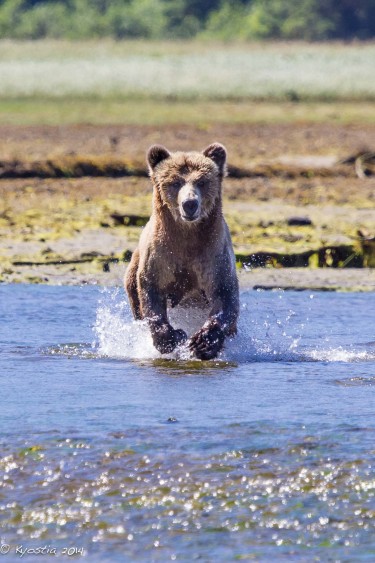 Admittedly, no one could have predicted this untimely offensive attack. Not the talent agents, the scouts, strategists, traders, brokers, buyers or sellers, wheelers or dealers. Likely not even the Pope. But there's no denying the fact that Christmas came early this year. Under the tree: 3000 calories of yumminess skilfully wrapped in a cold, slimy, scaly skin (minus the bow). Yup, the salmon have arrived! You heard me right. July is the new August?!
From a spectator's point of view, the exhibition game was a bit disappointing. Suddenly and unexpectedly called into service from a summer's hiatus of beach bummin' and hangin' with the kids, Bella's game was…uninspiring to say the least. It was obvious that her heart just wasn't in the game. Even B Lineup Scout and Amber were called off the bench in an attempt to storm the opposition. At the end of the tide, all were left empty pawed.
HOWEVER, there's a new coach on the block and she's got a team of her own. To the amazement and delight of all, the same sow bearing four cubs (according to the regs, the maximum number of players any sow can have) first spotted last autumn has returned to this wilderness paradise and she's got a tight game. In the hours that Bella scored nary a goal, Quadramom nailed 6 touchdowns sending her squad into a vicious feeding frenzy.
This is the earliest staging and migration of salmon any of us here at Tide Rip HQ can recall and we're hoping this is the start of something grand and not something that begins early and ends early. In the meantime: fish on!
Grizzly bears and black bears, deer and wolves, eagles and an amazing array of seabirds, there's always something to see on a Tide Rip Grizzly Tour!!!
We depart at 0700am daily from historic Telegraph Cove bound for the spectacular Knight Inlet by covered water taxi, complete with onboard washroom. Cost starts at $319 per adult for this all day excursion and includes a light breakfast, healthy lunch and knowledgeable Guides.
Please call toll free 1.888.643.9319 orlocal 250.928.3090 to book your grizzly bear tour.