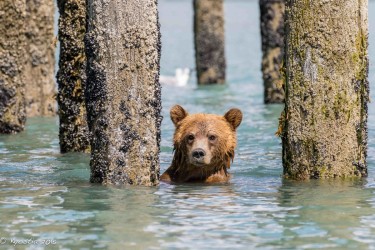 …immerse yourself in the simpler pleasures of tranquillity and solitude far removed from the hustle and bustle of pack mentality. Relax. Heal. Rejuvenate. Indulge!
Imagine tantalizing your taste buds on the super profusion of Mother Nature's intertidal bounty conveniently served twice daily on historically significant pilings. Blue mussels: raw and fresh. Your palette will be glad you did!
Not only that, but you can do so all the while soaking in the beautiful turquoise waters of a real infinity pool with endless mountain vistas in every direction! Between the increased buoyancy of your naturally saline immersion and your new summer figure (let's face it, you've kinda let yourself go!) the reduced gravity is easier on those sore muscles and joints after a hard day out fishing. Oh yeah! That's what I'm talkin' 'bout.
What's that? You say you've got a hot date lined up with that special boar? Well then you'll be delighted to learn that these ice-chilled meltwaters are specially fortified with rock flour meticulously ground from retreating glaciers over a gazillion years ago. The therapeutic baths will leave your coat feeling good and looking great. Simply cryogenically freeze those pesky parasites away!
Meanwhile, our Tide Rip team of Maitre d's have summoned only the very finest salmon to satisfy your hibernation needs. Shipments of exotic Oncorhynchus gorbuscha, first described in Russia and now specially imported from the Gulf Alaska, have arrived and limited quantities are going fast. Be sure to reserve your riverside seats in advance as to not be disappointed!
Grizzly bears and black bears, deer and wolves, eagles and an amazing array of seabirds, there's always something to see on a Tide Rip Grizzly Tour!
 We depart at 0700am daily from historic Telegraph Cove bound for the spectacular Knight Inlet by covered water taxi, complete with onboard washroom. Cost is $340 per person for this all day excursion and includes a light breakfast, healthy lunch and knowledgeable certified Guides.
Please call toll free 1.888.643.9319 or local 250.928.3090 to book your grizzly bear tour.