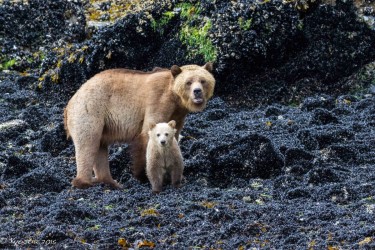 As June draws to an end, so too does bruin breeding season. Bella has been moping, the reality of her empty nest no longer obscured by her rampant hormones; her estranged son Scout has now claimed the inner estuary, the former territory of his mothers' suitors; and there's been nary a whiff of a male for days. Besides, maybe it's just as well. With the summer solstice behind us, winter is on its way for heaven's sake. (Hey, don't shoot the messenger! That's a celestial fact, friends.) And thus there's no time to waste. Let the feeding frenzy begin! Because, as they say in the biz: if you're not breeding, you're feeding!
Although Lingby Sedge continues to be the mainstay of any balanced bear diet, an inter-tidal seafood buffet with a brackish tonic aperitif is certainly a welcome change on the palette every 12 or so hours. Ultimately of course, what the bears are really craving is a calorie-packed salmon punch and we have reason to believe that one or two of said salmon have already arrived.
That would otherwise be welcome and exciting news however, the precipitation prognosis for the summer is not looking terribly promising. In the total absence of a snow pack and/or tangible rainfall that would otherwise keep our forests and waterways happy and hydrated, this could very well unfold like last year when an estimated 75,000 salmon succumbed to suffocation prior to spawning as a result of low water levels and high water temperatures. If this new world order were to persist for 2 or more salmon cycles, the longevity of the stocks could be called into question. Say your prayers!
In the meantime, all the bears have staked their claim. Lenore and cub are still avoiding the estuary and we've discovered Bella's daughter, Freya from her previous marriage in an adjacent watershed. Curiously, Sitka and Cedar seem to have taken an early summer holiday? Hm.
Grizzly bears and black bears, deer and wolves, eagles and an amazing array of seabirds, there's always something to see on a Tide Rip Grizzly Tour!
We depart at 0700am daily from historic Telegraph Cove bound for the spectacular Knight Inlet by covered water taxi, complete with onboard washroom. Cost starts at $319 per person for this all day excursion and includes taxes, a light breakfast, healthy lunch and knowledgeable Guides.
Please call toll free 1.888.643.9319 or local 250.928.3090 to book your grizzly bear tour.