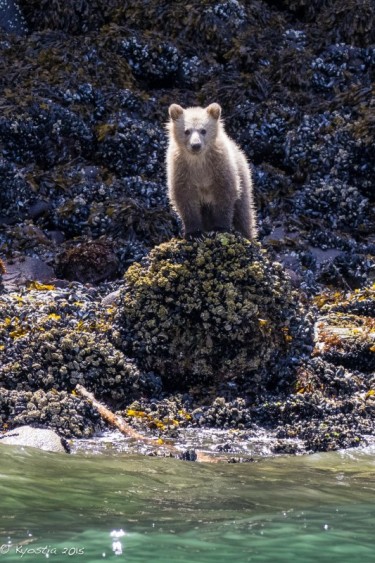 Well, well, well. Look who finally wandered out of the coastal rainforest, completely and entirely oblivious to sleepless nights and stressful days of worry she's subjected her dedicated admirers to.
Yes, that's right, dime store diva Lenore has at last descended fashionably late from her mountain retreat and has since been spotted ambling along the beach. And guess what: she's not alone! She comes bearing child.
With likely more speculation and anticipation than the naming of the last royal child, the arrival of resident Lenore and her expected fourth litter has been a sigh of great relief. This has been the single longest period for which she has been unaccounted for.
I don't think that Lenore's demonstrated sexual prowess is any secret and to that end, we all reserved lofty hopes of divine intervention whereby she would storm the coastline of Knight Inlet in command of a small army of cubs. However, such is not the case. She is sharing the company of but one precious little C.O.Y. (Cub Of Year). That's not to say that once upon a time she didn't have more. The descent from the mountains can be a dangerous undertaking even for the most sure-footed. The sad reality is that nearly 40% of bears will parish before sexual maturity. Injury, disease, predation, habitat loss, infanticide and hunting are just some of the hardships a bear must contend with throughout its life. For now though, it is our hopes that Lenore will invest all of her years of maternal experience into the sole bearer of her attention.
Meanwhile, haste makes waste! With the den bearly cold from her last liaison, Bella has garnered the attention of another male. He's younger, fitter and far less obsessed than Contestant #1 of yesterweek and she seems pretty darn partial to his subtle seductive moves.
And so all is well once again. The 2015 coastal critter collage has been assembled and the season has just begun!
Grizzly bears and black bears, deer and wolves, eagles and an amazing array of seabirds, there's always something to see on a Tide Rip Grizzly Tour!
We depart at 0700am daily from historic Telegraph Cove bound for the spectacular Knight Inlet by covered water taxi, complete with onboard washroom. Cost starts at $319 per adult for this all day excursion and includes a light breakfast, healthy lunch and knowledgeable Guides.
Please call toll free 1.888.643.9319 or local 250.928.3090 to book your grizzly bear tour.