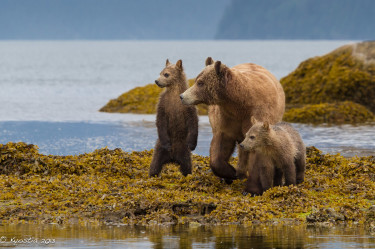 To celebrate the splendour of the Great Bear Rainforest and its amazing animals and mountainous seascapes, we are thrilled to once again launch the annual Tide Rip Grizzly Tours Photography Competition. Entry is free and open to both amateur and professional photographers of any age, with the opportunity to win a fantastic trip into the heart of coastal British Columbia.
Categories:
Animal Portrait: A photograph capturing the unique character of British Columbia's indigenous animals in their natural habitat.
Coastal/Mountainscape: A panoramic of a regional coastal scene, focusing on our spectacular local interface between the wild North Pacific Ocean and the rugged Coastal Mountains.
Peoples: Images of our guests completely and entirely enraptured during a priceless Tide Rip moments.
Contest Prize & Terms
PRIZE DETAILS: the winner of each category will receive one Grizzly Bear Tour Voucher (value $319) entitling its sole bearer to a complimentary Grizzly Bear Expedition with Tide Rip Tours.  Some restrictions apply.  See below.
RESTRICTIONS:
The voucher is non-transferable and redeemable only by the person specifically noted on the coupon.
The voucher is without monetary value and cannot be exchanged and/or refunded.
The voucher is without expiration and redeemable exclusively during the months of May and June.
Scheduling of the complimentary tour is at the discretion of Tide Rip based on seat availability.
The voucher is valid for single use only whether or not bear sightings are deemed successful.
ELIGIBILITY: All images must have been taken on a Tide Rip Grizzly Bear Expedition.
SUBMISSION DETAILS AND CLOSING DATE: Please send all entries to contact@tiderip.com with the subject line:  2014 Tide Rip photo contest.  Limit three (3) entries per category per person.  In the email, also include your name, contact details and the date the images were taken. All submissions must be received by 16:00 P.M. PDST on Friday May 2nd, 2014.
COPYRIGHT: The copyright of photographs remains with the photographer.
USAGE RIGHTS: By submitting a photograph to this competition, entrants agree that Tide Rip Tours Ltd. reserves the right to free reproduction and exhibition of the image in all media to promote Tide Rip Tours Ltd. Photographers will be credited if an image is used.