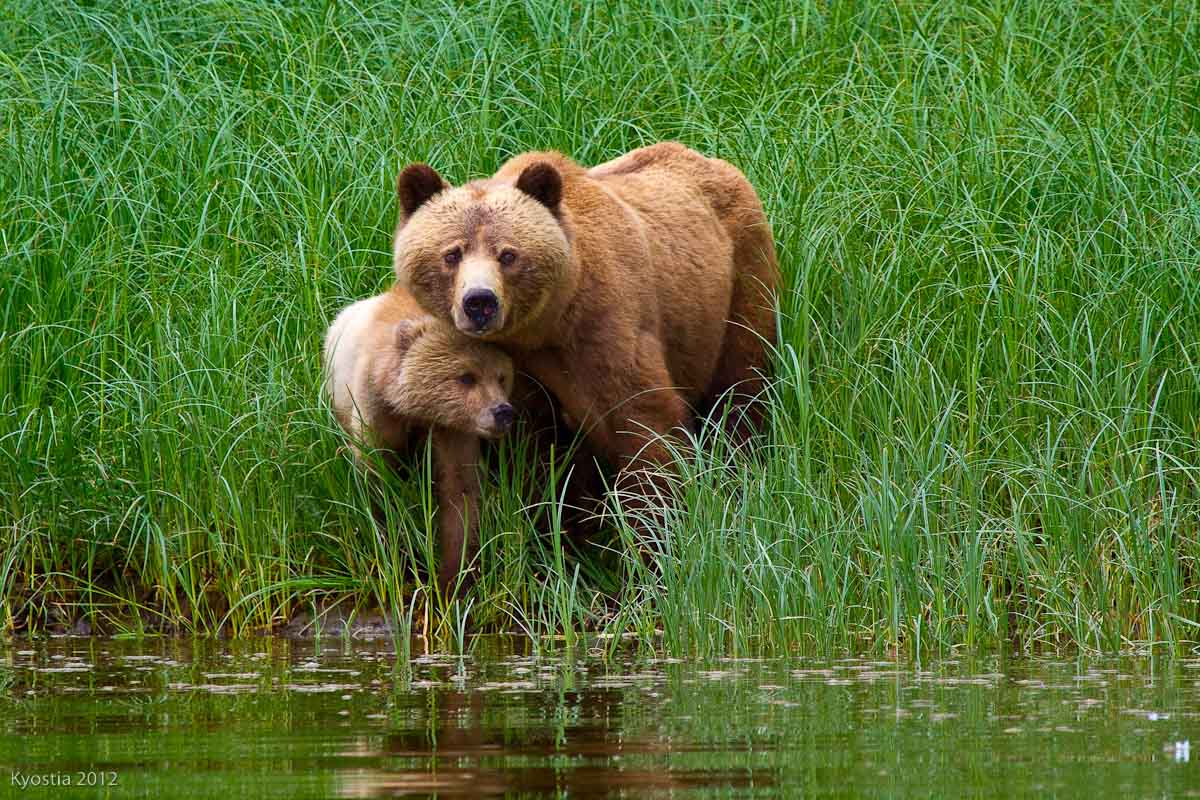 Aaaaahhhhhh….summer.  Who doesn't like summer, right?  Mmmmmm…dessert.  Who doesn't like dessert!?  Well, long days and short nights means that the berries have come to ripen and that's likely a delectable change from the 70 kg of bland sedge grass the bears have been packing back daily until now.  As well, the breeding boars appear to have moved on to greener estuaries, affording some much needed peace and quiet for the exhausted sows after countless late night clandestine rendezvous'.  There's a tangible magic in the air…BUT, is all as serene as it seems?!  One word:  babies.  Babies, babies, babies…everywhere!  It would seem as though there's perhaps an epidemic underway.  In recent days, Tide Rip Grizzly Expeditions have become more liken to Maternity Ward Tours.  In the air, besides the sheer number of eagles, there are noticeably more active nests where little eaglets can be seen perched precariously on the nest edge, cautiously testing their wings preparing for that imminent first leap of faith.  In the water, Knight Inlet at times seems more like a dolphin bisque, with cows and their calves frolicking and somersaulting in a timeless choreographed dance.  And on land, in addition to the various generations of cubs we've been observing over the spring, deer are out and about grazing with their offspring with some does sporting not one, but two fawns.  Needless to say, Tide Rip Guides are growing nervous wondering (gulp) 'who's next?'
 Grizzly bears and black bears, deer and wolves, eagles and an amazing array of seabirds, there's always something to see on a Tide Rip Grizzly Bear Expedition!!!
We depart at 0700 am daily from historic Telegraph Cove bound for the spectacular Knight Inlet by covered water taxi, complete with onboard washroom. Cost starts at $319 per adult for this all day excursion that includes a light breakfast, healthy lunch and knowledgeable Guides.
 Please call toll free 1.888.643.9319 or local 250.928.3090 to book your Grizzly Bear Expedition.
We know where the bears are.  We can get you there!